Gyazo API
Gyazo provides a standard RESTful API for HTTP requests which returns a response in JSON.
The API features several powerful features which can be used to add new functionality to almost any application that handles images:
Authenticate a user's ID
Upload Images
Get a list of a user's past images
Delete images
More
The app has a generous rate limit set and by sending us a message it can be increased depending on the situation.
Read the documentation and register your application to get started.
https://gyazo.com/api
To create our chrome/firefox extension, we used the Gyazo API extensively. As an example of how to use the API you can review the code on github.
https://github.com/gyazo/gyazo-browser-extension
oEmbed API

Gyazo supports for the oEmbed API which makes embedding much faster on enabled sites.
On blogs such as WordPress* and in Slack teamchat you can now embed images instantly by pasting a plain Gyazo link and on many others sites as well. (*For WordPress, some coding is necessary.)
oEmbed is a great format for quickly embedding content from sites like YouTube, Instagram, SoundCloud, and now Gyazo onto blogs and networks.
You can paste a Gyazo link and it will appear immediately on more sites soon.  For example, here is how it looks when pasted into a Slack chat: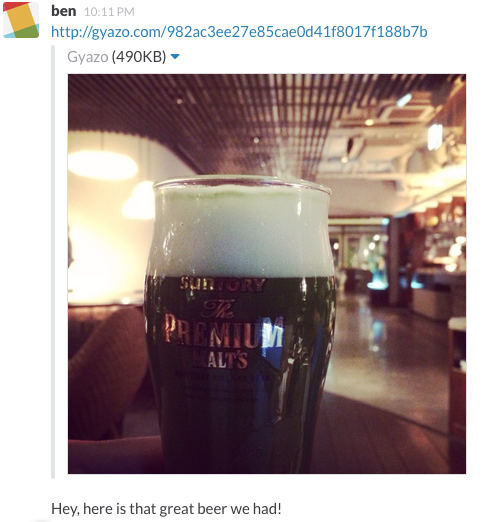 For Developers:
It is possible to get Gyazo images embedded on your site and in your apps if you have oEmbed set up. To get started please refer to our API documentation.
https://gyazo.com/api/docs/image
Awesome Gyazo

Check out our Awesomelist on github for source, APIs, libraries, and even Gyazo for nintendo 3DS:
https://github.com/gyazo/awesome-gyazo