Sharing images on twitter is one of the most popular ways to use our service.
By connecting twitter account with your Gyazo account, you can post image links to twitter to make it appears directly in the twitter feed without the need to expand.
How to connect:
On your settings page, click "integrate with twitter" and enter your twitter account details in order to connect with twitter.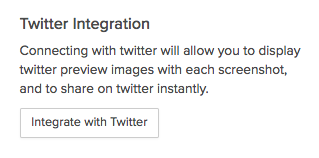 How to post: 
Simply grab a new screenshot and click Share > twitter icon on the image page to send a tweet.